As a trusted custom spring manufacturer, we work with many customers whose specific needs cannot be met by the items in an online stock spring catalog. Often, customers are unsure if their vision can become a reality, but at Gifford Spring Company, we do everything possible to bring even the most complex ideas to life. 
Recently, we partnered with Advanced Spot Welding on a custom compression spring project that we are incredibly proud of. If you have been considering working with a custom spring manufacturer, this story will give you a better sense of what we can do for you. 
The Project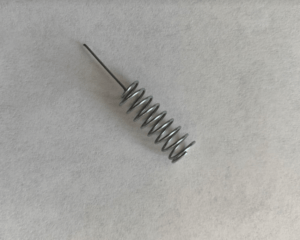 Advanced Spot Welding is a contract welding company specializing in materials joining, design, fabrication, and assembly, offering a turn key approach to custom manufacturing. 
They contacted us about manufacturing a custom compression spring to be used in the fracking industry. The spring ultimately functions as an electrical contact that, when triggered, detonates an explosive charge on a perforating gun to loosen nearby soil. 
This was a part that had been previously manufactured, but was being redesigned to be manufactured using a fully automated process. 
The Challenge
Advanced Spot Welding sought to purchase a spring component for their assembly that would require a customized and automated manufacturing process. The component had been previously manufactured, but using a manual and labor intensive process. Fit and function were both highly critical in the spring design and required careful attention.
As with any reverse engineering project, we needed to identify the right materials and finish processes. The spring needed to have a high tensile spring material that was both corrosion resistant and somewhat electrically conductive. 
Our next challenge was finding the proper tooling to manufacture the compression springs. Though we were sure we could take this project on, we did not yet have the specialty tooling needed and knew we would have to test a variety of manufacturing methods to identify what method would be required to hold to the tightest tolerances possible.
We successfully machined our own in house tooling as well as made adjustments to existing machine tooling to be able to form this spring complete off of one of our coiling machines.
The Outcome
With our tooling in hand, we began our collaborative prototype manufacturing process. We ran about 25 pieces of the compression spring and sent them to the customer where they were tested and approved.
For the spring material, music wire with a pre-plated zinc finish was chosen for production. This material met all three project requirements of having a high tensile strength, corrosion resistance from the zinc plating, and some electrical conductivity.
Once the customer approved the prototype, we went into production, manufacturing quantities of 50,000 at a time. We will continue working with Advanced Spot Welding as they require more inventory for their custom spring. 
If you are in the market for a custom spring manufacturer and looking for a collaborative partner, request a quote from Gifford Spring Company today!