With the twin pressures of inflation and supply chain challenges continuing to impact manufacturers, keeping cost in mind for spring and wire forming services remains a high priority for our customers. 
At Gifford Spring Company, we are here to support you. — Here are a few factors that directly impact the cost of your parts.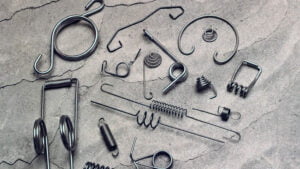 1. Material Choice
The type of material a customer requires for spring or wire forming services can significantly impact the cost of their order. 
Sometimes, customers call out a material in their design that could be substituted for a more cost-effective alternative, without compromising quality. Material is an especially important cost-saving consideration if a significant portion of your part cost comes from material due to part weight. 
If you have questions about material costs, we are always happy to answer them. Our team understands the properties of different materials and, when appropriate, can recommend economical materials that will preserve the integrity of your custom spring or wire form.
2. Part Complexity
The more complex a part is, the more expensive it is to produce. In some cases, that complexity is essential to the functionality of a custom spring or wire form. However, there are often opportunities to simplify designs (and reduce costs) without compromising performance.
Grinding
Sometimes, customers ask spring manufacturers to flatten the ends of springs using a process known as grinding. For example, grinding may be used to make the end of a compression spring flush with another part or to enable it to stand upright. 
Gifford Spring Company can help you determine whether grinding ends is necessary or if a less expensive closed spring, for example, would function comparably. 
Stress 
If a spring is not designed to support the stress load of its application, it can become overstressed and cease to function properly sooner than anticipated. Many overstressed springs also require a secondary preset operation that adds to manufacturing costs.
We can suggest design adjustments that will prevent your spring from becoming overstressed, helping you avoid costly equipment repairs and part replacements. 
Finishing services 
The cost of finishing services varies considerably depending on the finishing specification and the volume of parts in the order. Gifford Spring Company can inform you of the costs and limitations of various methods to help you make the most economical choice.
If you are ordering a small number of parts, for instance, stainless steel might be a good option because it does not require plating. Finishing shops typically have plating minimums, so choosing a material that requires plating, such as music wire, may not be optimal for a low-volume order. 
Tolerances 
How tight are your custom spring or wire form's tolerances? Although we routinely manufacture tight tolerance parts for our customers, we ensure they know that the extra labor required will increase the overall cost of their orders. In many cases, loosening tolerances on non-critical features can reduce cost without compromising the part's performance.
3. Ordering Method
Many of our customers place repeat orders for parts they know they will need periodically. If it is possible to plan ahead and anticipate such needs, we recommend placing one larger "blanket" order rather than submitting multiple smaller orders. A blanket order is a schedule of multiple smaller quantity shipments.
An example of a blanket order would be ordering a year's worth of parts up front and telling us when to send them to you. We purchase all the material at a single price point, protecting us—and you—from price increases. You also avoid the long lead times associated with supply chain breakdowns that may occur and instead get your parts when you need them.
Ready to work with a spring manufacturer who always has your best interests in mind? Request a quote today.