Delivering Excellence: The Gifford Spring Advantage
In critical industries like aerospace and manufacturing, the demand for precision in spring and wire form manufacturing is non-negotiable. At Gifford Spring Company, we understand the pivotal role these compo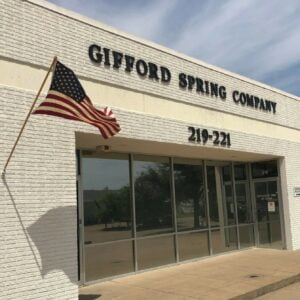 nents play in high-stakes applications. We are committed to delivering only the highest quality products, ensuring they are manufactured as designed.
Our Pledge to Quality
Quality is fundamental to our operations at Gifford Spring Company. Every manufactured part that leaves our facility reflects careful craftsmanship and adherence to stringent quality standards.
Our processes are carefully controlled with our ISO 9001:2015 quality management system. This dedication to precision ensures the reliability of our manufactured springs and wire forms, aligning with the expectations of our customers.
On-Time Delivery: A Testament to Our Commitment
At Gifford Spring Company, we understand that timely delivery is often as crucial as the quality of the springs and wire forms we manufacture. Our commitment to on-time delivery is supported by a well-structured and organized production process. We optimize our operations to ensure that each order is manufactured well within the timeline we agree to. We understand that high priority projects require urgent attention and work with you to offer the best possible lead times.
Exceptional Customer Service: Your Satisfaction, Our Priority
Customer satisfaction is not just a goal but a way of life at Gifford Spring Company. We believe in building lasting relationships with our customers by providing exceptional customer service.
Our dedicated support team ensures that customer needs are addressed promptly and every concern is met with a solution. We strive to understand the unique needs of each customer, tailoring our services to exceed their expectations. Our commitment to exceptional customer service sets us apart and fosters a strong sense of trust and reliability.
Made in the USA: Our Contribution to American Excellence
As a USA-based manufacturer, we take pride in contributing to our nation's manufacturing industry. Every spring and wire form we produce reflects the dedication and ingenuity of our local workforce. By choosing Gifford Spring Company, our customers support local manufacturing, bolstering regional industries and ensuring that our products carry the hallmark of quality associated with locally sourced manufacturing.
At Gifford Spring Company, our mission is clear: to provide the highest levels of quality, ensure on-time delivery, offer exceptional customer service, and uphold the heritage of American spring and wire form manufacturing. We invite you to experience the Gifford Spring Advantage and witness the difference that commitment to excellence can make. Request a quote today, and let's embark on a journey of precision and reliability together.